---
About Brian Mayton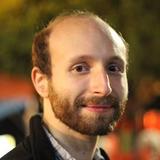 I have a B.S. in Computer Engineering (with a hardware specialization) from the University of Washington and an M.S. and Ph.D. in Media Arts and Sciences from the Massachusetts Institute of Technology. I enjoy designing new hardware and applying software and electronics to solve interesting problems. I have particular interests in sensor networks, embedded systems, reverse engineering, audio, and performance technologies. I provide consulting for a variety of clients in these and other areas.
I currently work closely with Living Observatory, a non-profit organization and learning collaborative of scientists, artists, and wetland restoration practitioners engaged in the documenting, interpreting, and revealing the arc of change as it occurs prior to, during, and following ecological wetland restoration on retired cranberry farms. I am continuing the work from my dissertation to employ low-power wireless sensor networks and other technologies to further these goals.
I continue to be a Research Affilliate with the Responsive Environments group at the MIT Media Lab, where I completed my Ph.D. in 2020.
About This Site
This blog is a place for me to post random musings, mostly on electronics, hardware hacking, and other things of that sort. Hopefully some of it will be useful, or at least interesting, to the open source hardware community.
Contact
You can e-mail me at my initials (which are the three letters in the logo on top of every page on this site) at the domain of this site (which is also my initials, followed by .cc). I welcome comments and constructive feedback on content posted here.
---